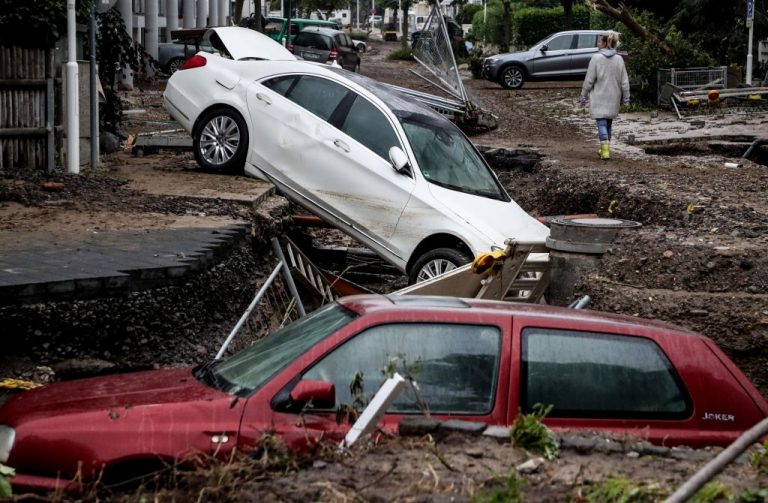 Najmanje 180 ljudi poginulo je u poplavama u Njemačkoj i Belgiji. Spasioci strahuju da će poginulih biti još jer tragaju za stotinama nestalih. Obilna kiša, koje je palo više od 100 litara po četvornome metru, izazvala je jučer poplavu i u njemačkoj pokrajini Saskoj. Njemačka kancelarka Angela Merkel u nedjelju poslijepodne otići će na poplavom pogođeno područje. Poplava je pogodila i grad Hallein u Austriji. U Nizozemskoj tek očekuju vrhunac vodostaja tamošnjih rijeka, javlja HRT.
Broj poginulih u razarajućim poplavama u Njemačkoj popeo se u nedjelju na preko 150, najviše u Njemačkoj, a ozlijeđenih više od 600. Kancelarka Merkel posjetit će danas pogođena područja u zapadnoj pokrajini Porajnje-Falačka.
Još uvijek se traga za nestalima u neviđenim poplavama koje su opustošile dio zapadne Europe.
Vodostaj pada sporije nego što se očekivalo, a stanje na brani Steinbachtal u okrugu Rhein-Sieg i dalje je kritično. Tisuće ljudi koji žive u blizini brane evakuirani su.
Comparison of historical satellite imagery to the current state of Steinbachtalsperre, a dam located near #Euskirchen in North Rhine-Westphalia, #Germany. 4,500 residents have been evacuated due to the dam's instability. #germanyfloods https://t.co/DIKrWB1bSv pic.twitter.com/jGc5fkBEp8

— IntelWalrus (@IntelWalrus) July 15, 2021
Zbog obilnih oborina i nabujalih rijeka rastu vodostaji i u Bavarskoj, obilne kiše već su potopile podrume i ceste, javlja wdr.de.
Hospital in Germany 🇩🇪 after the recent floods. Lesson: #nature makes all countries a level playing field. pic.twitter.com/e9EPJLmphq

— 🆁🅰🅹🅴🆂🅷 🅿🅰🆁🅸🅺🅷 (@imacuriosguy) July 16, 2021
Opasnost još nije prošla zbog pucanja brana i mogućih novih poplava, a u Nizozemskoj – gdje su posljednjih dana evakuirani deseci tisuća ljudi – vodostaji rijeka u subotu su dosegnuli rekordne razine.
Stanovnici područja u Njemačkoj i Belgiji koje su najteže pogođene nedavnim poplavama započeli su ogroman zadatak raščišćavanja svojih naselja gdje se voda počela povlačiti. Razmjere štete tek postaju jasne, dok spasilačke ekipe i dalje traže žrtve, javlja BBC.
U Belgiji je vojska poslana u četiri od 10 provincija te zemlje kako bi pomogla u spašavanju i evakuaciji. Premijer Alexander De Croo proglasio je 20. srpnja nacionalnim danom žalosti.
Kazao je kako bi poplave koje su u Belgiji odnijele najmanje 27 života mogle biti "najkastrofalnije u povijesti".
Spasioci iz Francuske, Italije i Austrije upućeni su u grad Liege, gdje su stanovnici evakuirani nakon poplava.
Currently Western Europe is seeing "worst flood in a century". Especially Germany & Belgium. Many cities are facing heavy rains in Luxembourg and the Netherlands. Whereas in Canada heatwaves are making new records. Not good signs. pic.twitter.com/JtzWcoBhkN

— Parveen Kaswan, IFS (@ParveenKaswan) July 17, 2021
U međuvremenu su u Nizozemskoj tisuće ljudi napustile svoje domove u pokrajini Limburg dok su bujice preplavile gradove i probile nasip.
No, voda se povlači u južnom gradu Maastrichtu i obližnjim gradovima, gdje su se stanovnici u petak mogli vratiti svojim kućama.
Poplave i u Austriji
Nakon obilnih kiša bujične poplave pogodile su i grad Hallein u Austriji.
#Hallein vor wenigen Minuten. #Hochwasser #Salzburg pic.twitter.com/zbVI8yYr7w

— Der Mario 🇪🇺 (@DerMarioO) July 17, 2021
Potok se pretvorio u bujicu, potvrdila je u subotu policija, a sve se moglo vidjeti i na objavljenim snimkama.
"Situacija je vrlo napeta, dijelom i dramatična", kazao je policijski glasnogovornik. Ipak, za sada nema indicija o žrtvama.
Na snimkama se vidi kako bujica odnosi automobile.
Stanovništvo je već ranije upozoreno na oprez i da ne silazi u podrume.
Situacija je napeta i u drugim dijelovima Austrijskih Alpi. Oko Kitzbühela, u zapadnoj pokrajini Tirol, vatrogasci su iz brojnih podruma ispumpavali vodu.
Potresni prizori iz Njemačke
U RTL Danas se javila reporterka Amela Čilić. Razgovarala je s Hrvaticom Andreom Babić.
"Situacija je nenormalna, puno ljudi se traži, puno ljudi su našli, nažalost mrtvih. Vide se tijela, skupljaju ih, još ih se mora identificirati Nema signala, ne možemo javiti ljudima da smo živi. Bilo je prizora gdje je rijeka odnijela jednu kuću kao brod", kazala je Andrea i nastavila:
"Susjedno selo je isto uništeno, kao i ovo ovdje. Ne zna se broj ni poginulih ni nestalih. To će se tek otkriti kad se voda povuče, makne blato. Ne zna se koliko nedostaje ljudi, jer se ne može zvati", kazala je.
Dodala je da je ovo bilo prelijepo mjesto.
"To više neće biti nikada kao što je bilo. Baš smo sve otvoriti nakon zatvaranja u vrijeme koronavirusa. Puno ljudi je investiralo u poslove, sada je sve uništeno… Kuće se neće dati popraviti, jer su stare. Morat će ih rušiti. Sve se mora srušiti", kazala je Andrea za RTL Danas.
Podržite nas!
Kako bismo Vas mogli nastaviti informirati o najvažnijim događajima i
temama koje se ne mogu čitati u drugim medijima
, potrebna nam je Vaša pomoć. Molimo Vas podržite Narod.hr s 50, 100, 200 ili više kuna. Svaka Vaša pomoć nam je značajna! Hvala Vam! Upute kako to možete učiniti možete pronaći
OVDJE
Izvor: narod.hr