Smrtonosne požare u Australiji potaknuli su kombinacija ekstremne vrućine, dugotrajne suše i jakih vjetrova.
Svijet s nevjericom prati strašne požare u Australiji, koji imaju kataklizmičke razmjere. Više od 20 ljudi do sada je poginulo, a 28 osoba smatra se nestalima.
U australskoj državi Novi Južni Wale stradalo je gotovo pola milijarde životinja u velikim požarima u posljednjih nekoliko mjeseci, a očekuje se i rast broja mrtvih.
Najveći požari su uglavnom u Novom Južnom Walesu, državi u kojoj živi sedam milijuna stanovnika, s glavnim gradom Sydneyem. Obližnja  država Victoria na samom jugoistoku zemlje, s glavnim grafom Melbournom, također je teško pogođena požarima. Masovne evakuacije, uz pomoć vojske, počele su prije par dana i u Victoriji. Tisuće ljudi odvedeni su u luku u blizini Melbournea, nakon 17 sati dugog putovanja.
Požari su normalna pojava u Australiji – što se sada dogodilo?
Veliki požari u Australiji su prirodni proces. No, kombinacija suše, rekordnih vrućina i jakog vjetra pridonijeli su razornim omjerima ovogodišnjih požara. Zemlju je zahvatio toplinski val s rekordnim temperaturama u posljednja tri mjeseca. Sredinom prosinca 2019. zabilježeno je najtoplije vrijeme u povijesti mjerenja u Australiji. Sve to je bilo praćeno velikim vjetrovima, pa je tako ovog tjedna zabilježeni vjetrovi od 96 km/h, koji su uvelike doprinijeli širenju požara. Sve to je praćeno rekordnim sušama, što je dovelo do ovakvih katastrofalnih požara.
Požari su se počeli intenzivirati u rujnu 2019. godine. Prirodni uzroci, poput udara munje, su najčešći uzrok požara, ali često su uzrok i podmetanja. Tako je nekoliko osoba uhićeno zbog sumnji u podmetanje nekih požara ove sezone.
"Sezona požara je započela na područjima sjeveroistočnog Novog Južnog Walesa i jugoistočnog Queenslanda s iznadprosječnim dnevnim temperaturama, vrlo niskom vlagom i velikim vjetrovima koji dovode do opasnih vremenskih uvjeta", napisao je Biro za meteorologiju u svom izvješću o požaru. "Vrijednosti FFDI bile su od 100 naviše (više od 37,8 stupnjeva Celzijusa naviše) što je katastrofalna kategorija na nekim lokacijama u Novom Južnom Walesu, što je označilo početak brojnih velikih požara u istočnoj Australiji."
Oko 3 milijuna hektara izgorjelo je u Novom Južnom Walesu od početka požara, priopćila je ruralna vatrogasna služba tog područja. Oko 5 milijuna hektara zemlje je izgorjelo u cijeloj zemlji.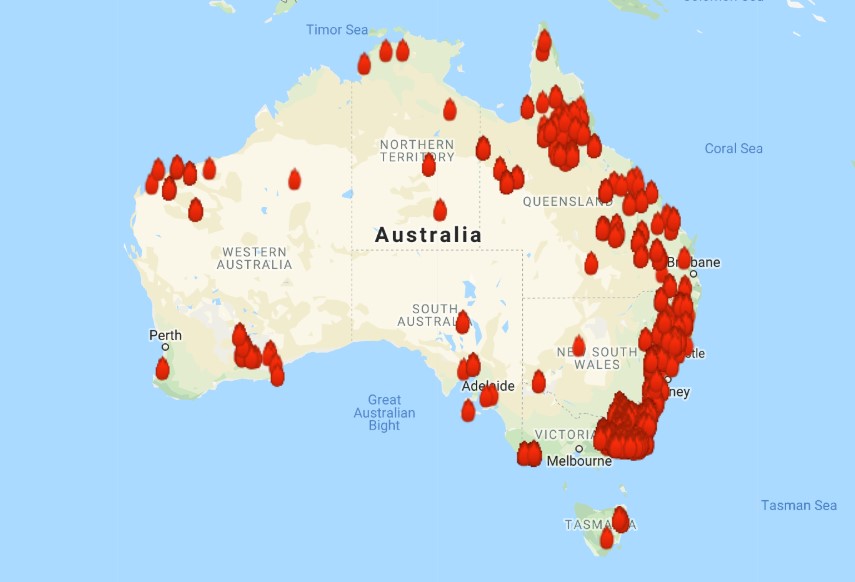 Teški posljednji dani
Dvoje ljudi nestalo je nakon vatrene stihije u subotu, rekla je Shane Fitzsimmons, povjerenica vatrogasne službe u Novom Južnom Walesu. U državi Victoriji, gdje još uvijek nije poznata sudbina četvero ljudi, više od 40 požara gorjelo je u ponedjeljak. Blaga kiša i nešto umjereniji uvjeti usporili su požare i omogućili dostavu namirnica izoliranim zajednicama, rekao je viktorijski premijer Daniel Andrews za 3AW radio.
Na internetu se pojavila spektakularna 3D vizualizacija svih požara u Australiji, što je zapravo malo bolja grafika.
Na vizualizaciji su predstavljene sve slike požara, odnosno opožarenih područja koje je NASA snimila u zadnjih mjesec dana i predstavlja presjek svega što je do sada gorilo u Australiji.
3D Vizualizacija opožarenih područja
Ovu sliku je napravio stručnjak za fotografiju Anthony Hearsey, stručnjak za fotografiju koji od 5. prosinca skuplja sve NASA-ine podatke o požarima u Australiji.
Iako se na njoj ne vidi trenutno stanje, fotografija na jedinstven način prikazuje što su sve požari pokosili u Australiji.
Prema najnovijim satelitskim snimkama vidi se kako dim od katastrofalnim požara dolazi čak do Južne Amerike, a oblaci dima koji su se stvorili veličine su kopnenog dijela SAD-a.
Nebo iznad Novog Zelanda kao posljedica požara u Australiji:
Australija – što je pokrenulo strašne požare?
Podržite nas!
Kako bismo Vas mogli nastaviti informirati o najvažnijim događajima i
temama koje se ne mogu čitati u drugim medijima
, potrebna nam je Vaša pomoć. Molimo Vas podržite Narod.hr s 50, 100, 200 ili više kuna. Svaka Vaša pomoć nam je značajna! Hvala Vam! Upute kako to možete učiniti možete pronaći
OVDJE
Izvor: narod.hr