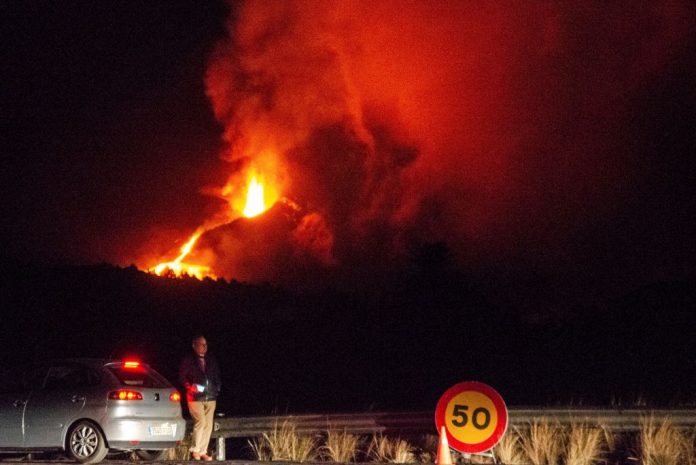 Točno mjesec dana traje erupcija vulkana Cumbre Vieja na kanarskom otoku La Palmi koja je nepovratno promijenila jedno od omiljenih turističkih odredišta. Lava za sada prekriva više od 800 hektara, došla je i do mora te je stvoreno oko 40 hektara nove zemlje, javlja HRT.
Zbog erupcije vulkana evakuirane su tisuće stanovnika – održana je misa i procesija vjernika. Molilo se za kraj erupcije. Naime, lava, plin i pepeo i dalje se raspršuju diljem ovoga otoka.
SO₂, levels at 400, 500, 600 and 700 hPa, forecast for 3 days, time lapse per 3 hours#CumbreVieja #LaPalma #LaPalmaeruption pic.twitter.com/aeuuzTASil

— Scapeler (@Scapeler) October 19, 2021
Uništeno je više od 2 tisuće stambenih objekata, a evakuirano 7 tisuća ljudi. U mjesec dana zabilježeno je i više od 35 tisuća potresa.
U utorak navečer zabilježen je i potres jačine 4.8 stupnjeva po Richteru, jedan od 18 koji su se dogodili u zadnjih 24 sata.
Jedan jezičac lave došao je i do mora te formirao deltu veličine 34 hektara površine.
– Ovo su vrlo teška vremena. Znam da će nas vjera spasiti i pomoći nam u ovoj situaciji jer Bog nas neće napustiti ni jednog trenutka, rekla je jedna stanovnica Kanarskog otočja, navodi HRT.
Sulphur dioxide from #CumbreVieja #LaPalma continuing across Europe & Atlantic➡️Caribbean this week. @CopernicusECMWF Atmosphere Monitoring Service @ECMWF 18 Oct 00 UTC forecast visualized by @Windycom https://t.co/oSn9e3c5VE. Total column SO2 with assumed injection ~5km. pic.twitter.com/1nRgNOC7eD

— Mark Parrington (@m_parrington) October 18, 2021
High res drone footage from @Esri of the lava delta.#opendata resources for #LaPalma can also be sourced from @lapalmaopendata #LaPalmaeruption #CumbreVieja @GeoTenerife @lapalmaresearch pic.twitter.com/kCcPfjYhba

— Helen Robinson (@Geology_Helen) October 15, 2021
Podržite nas!
Kako bismo Vas mogli nastaviti informirati o najvažnijim događajima i
temama koje se ne mogu čitati u drugim medijima
, potrebna nam je Vaša pomoć. Molimo Vas podržite Narod.hr s 50, 100, 200 ili više kuna. Svaka Vaša pomoć nam je značajna! Hvala Vam! Upute kako to možete učiniti možete pronaći
OVDJE
Izvor: narod.hr/hrt