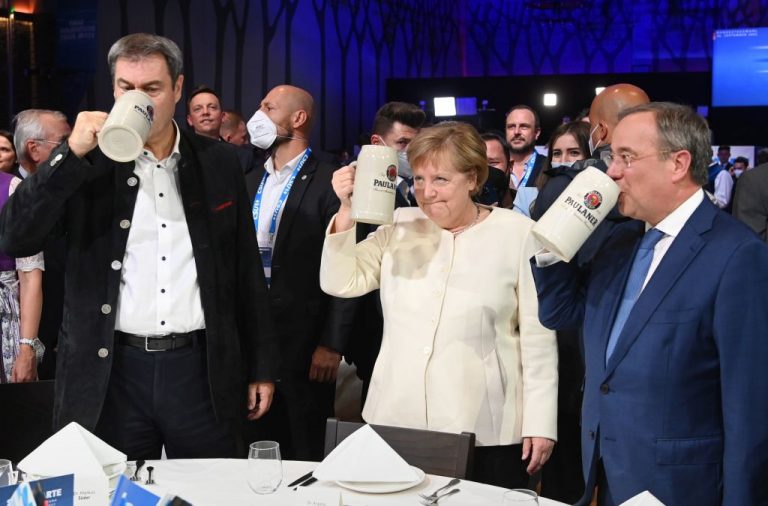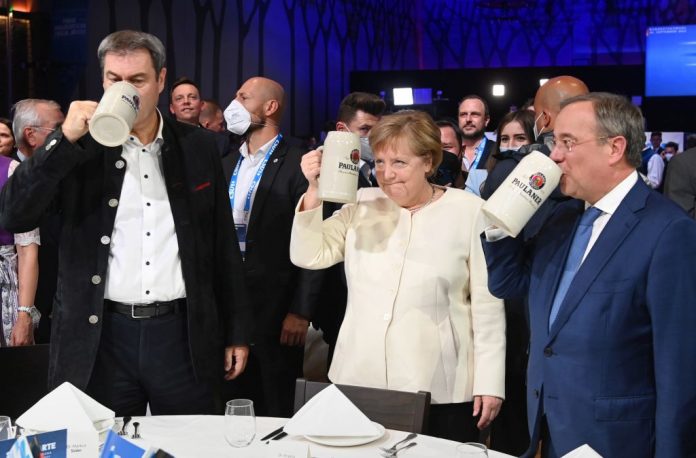 Njemačka kancelarka Angela Merkel uskoro završava povijesnih 16 godina na vlasti s neizvjesnim nasljeđem u zemlji i inozemstvu. Šezdesetsedmogodišnja političarka povlači se iz političkog života nakon parlamentarnih izbora u rujnu.
Primat će mirovinu od oko 15 tisuća eura, pokazuje izračun njemačke udruge poreznih obveznika. Mirovina je izračunata na temelju plaća koje je primala kao zastupnica u saveznom parlamentu, savezna ministrica i kancelarka.
Europski čelnici zadnjih mjeseci puni su riječi hvale za tu ženu koja je na čelu Njemačke sve od 2005., gotovo jednako dugo kao i kancelar njemačkog ujedinjenja Helmut Kohl (1982.-1998.). Da bi oborila Kohlov rekord, Merkel bi u Bundeskanzleramtu morala ostati barem do 17. prosinca 2021.
> Holjevac: Odlazak žene za koju je Kohl rekao da je uništila njegovu Europu
Osim 15 tisuća eura plaće imat će službeni ured i 5 zaposlenika
Kao svi bivši kancelari i predsjednici države, Merkel će imati pravo na službeni ured.
Država će joj također plaćati tajnika ureda, dvoje asistenata, daktilografa i vozača.
Angela Merkel je neprestano kancelarka Njemačke od 2005., a 2018. se povukla s čelnog mjesta Kršćansko demokratske unije (CDU) i objavila da se neće natjecati za peti kancelarski mandat.
U srpnju je izjavila da se nakon odlaska s dužnosti planira dobro odmoriti i razmisliti što je to što je zapravo zanima.
Za to nije imala vremena u 16 godina na dužnosti kancelarke, rekla je.
"I onda ću možda pokušati nešto čitati, pa će mi se oči sklapati jer sam umorna, pa ću malo odspavati i zatim ću vidjeti", rekla je.
Dodala je da joj neće nedostajati vrijeme u kojem je stalno donosila odluke, iako će ta navika vjerojatno značiti da će joj se glavnom neprestance vrtjeti misli što sve mora učiniti.
"A onda ću se vrlo brzo sjetiti da to sada radi netko drugi. I mislim da će mi se to biti jako drago", rekla je Merkel a donosi Glas Istre.
Merkel – Kohl
Bivši njemački kancelar Helmut Kohl žestoko je 2011. kritizirao europsku politiku svoje nasljednice Angele Merkel ocjenivši je "vrlo opasnom".
"Ona uništava moju Europu," rekao je tada Helmut Kohl, kako je prenio Der Spiegel pozivajući se na bliske Kohlove suradnike. Helmut Kohl, koji je od 1982. do 1998. obnašao funkciju njemačkog kancelara, smatrao se velikim pobornikom europske ideje i, zajedno s bivšim francuskim predsjednikom Francoisom Mitterrandom, rodonačelnikom moderne Europske unije.
Kohlova kancelarska karijera okončana je 1998. godine, nakon 5870 dana na dužnosti premijera.
"Kohla i Njemačku uvijek moramo pamtiti po tomu da su u najtežim trenutcima stali iza nas i bili za priznanje Hrvatske. Kohl je stao iza Hrvatske u tom ključnom trenutku, nakon toga su nas priznale i druge zemlje koje nisu bile članice Europske zajednice", rekao je bivši ministar vanjskih poslova Miro Kovač uoči posljednjeg ispraćaja njemačkog "kancelara ujedinjenja" Helmuta Kohla.
"Merkel nema nikakvih ideja", opisao je Kohl 2014. svoju nekadašnju štićenicu. "Nije mogla čak ni držati nož i vilicu pravilno", dodao je bivši političar, poznat i po tome što je Merkel u vrijeme kad je bila ministrica u njegovoj vladi nakon njemačkog ujedinjenja nazivao "curom".
"Stalno sam je morao ispravljati", rekao je, govoreći o njezinom ponašanju tijekom državničkih večera 90-ih godina. Odnos između Merkelove i bivšeg kancelara Kohla je, nakon njegovog povlačenja iz politike 2002. godine, jasno zahladio.
Nakon odlaska iz politike Kohl se otuđio i od svojih nekadašnjih političkih saveznika. Angeli Merkel nije nikad oprostio što mu je zabila nož u leđa u vrijeme skandala oko financiranja. Kao tadašnja tajnica stranke odbacila je Kohla kroz članak u istaknutim novinama u kojem je napisala da se stranka "mora naučiti boriti bez starog ratnog konja".
Iako ga je 2010. godine posjetila povodom njegovog 80. rođendana i zahvalila mu javno za njegove zasluge bez kojih bi "životi milijuna ljudi, koji su kao ja živjeli u DDR-u do 1990. godine, protekli potpuno drugačije", Kohl joj nikada nije oprostio. Poznat po tome da ništa ne zaboravlja on je, prema navodima njegove udovice, više puta odbio prijedlog da Angela Merkel održi govor na njegovom pogrebu.
Kohl je preminuo 16. lipnja 2017. i za njega je organiziran prvi državnički pogreb Europske unije. Nikada do sada nijednom državniku nije bio priređen europski sprovod. Kohl, kao europski državnik, ujedinitelj Njemačke (ali i jamac hrvatske neovisnosti), ispraćen je u Europskom parlamentu u Strasbourgu pred brojnim bivšim i sadašnjim predsjednicima, premijerima i predsjednikom Europske komisije.
Njemačka kancelarka Angela Merkel, ipak je održala govor i zaključila državničke govore naglasivši da Kohlovo naslijeđe mora biti sačuvano.
"Sada je na nama da čuvamo njegovo naslijeđe", kazala je na oproštaju Merkel dodavši da Kohlu trebaju zahvaliti i Nijemci i Europljani.
Uspon Angele Merkel
Godine 1990. lokalni političar Wolhard Molkentin očajnički je tražio nekoga iz svog CDU-a tko bi se natjecao u baltičkoj izbornoj jedinici na prvim izborima u ujedinjenoj Njemačkoj. Tad mu je netko na uho šapnuo – "Merkel".
Potpuno nepoznata Angela Merkel osvojila je mandat u izbornoj jedinici 267, koja uključuje baltički obalni grad Stralsund i otok Ruegen. Bio je to početak njezina puta prema 'saveznoj kancelariji'.
Merkel se ni nakon 16 godina upravljanja najvećom europskom ekonomijom "suštinski nije promijenila", kazao je Molkentin AFP-u, sjedeći za stolom za kojim ju je nekoć dočekivao s kavom i kolačima.
"Bila je vrlo jednostavna, stabilna i pouzdana osoba, što još uvijek jest", kazao je danas 80-godišnji Molkentin.
Merkel se u utorak posljednji put vratila u svoju izbornu jedinicu zajedno s kandidatom njezina CDU-a za kancelara Arminom Laschetom, koji zaostaje u anketama i potrebna mu je podrška nekoliko dana prije izbora.
Tko je Merkel?
Merkel rijetko ima vremena vratiti se u Stralsund i obići ljude koji su joj pomogli u političkoj karijeri.
Molkentin ju je prije ovog posljednji put primio u svom domu u Grammendorfu u prosincu.
Svake bi joj godine do 2020. donio božićnu gusku, a ona ga je pozivala na sve svoje svečane prisege, ali i na prijem Georgea W. Busha 2006.
Molkentin se prisjetio kako je, kada su mu je predložili za kandidatkinju, odgovorio: "Tko je Merkel?".
No, nakon što se upoznao s mladom političarkom na sastanku s aktivistima, postao je bio uvjeren da je dobar izbor.
"Pomislio sam da ćemo s njom uspjeti nešto postići'", kazao je.
Merkel je tada osvojila mandat u Bundestagu s 48,5 posto glasova.
Susret s ribarom
Hans-Joachim Bull, bivši ribar koji živi na otoku Ruegenu, poznatom po bijelim pješčanim plažama, nije zaboravio prvi susret s Merkel kad je imala 36 godina.
Prisjetio se kako je buduća kancelarka pažljivo slušala dok je on prigovarao zbog europskih izlovnih kvota.
"Nikada nije obećala da će biti bolje. Ali rekla nam je: 'Vaše probleme ću staviti na stol'", prisjeća se 64-godišnjak.
Oronula ribarska koliba u kojoj je Bull razgovarao s Merkel više ne postoji, ali ostala je fotografija buduće kancelarke rumenih obraza.
"Popila je s nama četiri ili pet rakija", nasmijao se Bull.
 Matić: Prije su doseljenici bili skloniji SPD-u, no to se promijenilo
Tradicionalno su doseljenici bili skloniji SPD-u, stranci socijaldemokrata, zato što se radilo o ljudima koji su bili zaposleni u sektorima s nižim plaćama, u onim industrijama i djelatnostima u kojima je uloga socijaldemokrata odnosno sindikata bila jaka, pa su oni bili skloniji birati te opcije kako bi zaštitili i svoje interese. Međutim s vremenom se to promijenilo, sve više je i djece iseljenika, druga, treća, čak i četvrta generacija koji su visoko obrazovani ljudi koji se okreću i drugim opcijama, pojasnio je Srećko Matić, novinar Deutsche Wellea za HTV-ovu emisiju Studio 4, te je govorio o izborima za novog kancelara u Njemačkoj i prisutnim političkim opcijama.
Ostalo je samo pet dana do izlaska Nijemaca na birališta gdje će odlučiti tko će biti novi kancelar, odnosno koja će politička opcija vladati vodećom državom Europske unije. Nije to samo važno pitanje za Njemačku koju je više od desetljeća, 16 godina, vodila Angela Merkel. Izborna nedjelja bi izravno mogla i utjecati na odnose u Europskoj uniji. hoće li manjine imati utjecaj na izborne rezultate, posebno mnogobrojna turska zajednica u Njemačkoj?
– Tradicionalno su doseljenici, ne samo Turski doseljenici, bili skloniji SPD-u, stranci socijaldemokrata, iz jednostavne činjenice što se radilo o ljudima koji su bili zaposleni u sektorima s nižim plaćama, u onim industrijama i djelatnostima u kojima je uloga socijaldemokrata odnosno sindikata bila jaka, pa su oni bili skloniji birati te opcije kako bi zaštitili i svoje interese. Međutim s vremenom se to promijenilo, sve više je i djece iseljenika, druga, treća, čak i četvrta generacija koji su visoko obrazovani ljudi koji se okreću i drugim opcijama. Sve više tih ljudi bira CDU tako da bih rekao da otprilike pola-pola, pojasnio je Srećko Matić, novinar Deutsche Wellea.
Erdogan i njemački izbori
Erdogan je do sada vodio anti-kampanju i pozvao je tursku zajednicu Njemačkoj da ne iziđu na izbore jer u ovom trenutku nemaju za koga glasati, konstatirao je voditelj Petar Vlahov.
– Erdogan je i proteklih desetljeća dosta koristio svoj utjecaj među Turcima u Njemačkoj i ta utjecaj nije uvijek baš konstruktivan. Zanimljivo je da je on na izborima u Turskoj, kada su se održavali predsjednički izbori, podrška Erdogana je bila veća u Njemačkoj među njemačkim Turcima nego Turcima u Turskoj. Međutim, mnogi ti ljudi nemaju pravo glasa, pa je upitno naravno koliko će njegov utjecaj prosuditi, komentirao je Matić.
Odnos Njemačke u turske stalno opterećuju pritisci Turske da Njemačka mora izdvojiti više novca za tursko zbrinjavanje izbjeglica u kampovima, rekao je voditelj.
– Erdogan najprije vodi računa o svojoj zemlji, interesima te političkim perspektivama. I bilo je sasvim očekivano da traži malo više novca za ono što čini, a čini očito jako puno u europskom interesu. Inače Europljani pogotovo Nijemci inače Europljani ne bi pristali na kreiranje tog poznatog izbjegličkog deala prije nekoliko godina kada je upravo Berlin odigrao ključnu ulogu kako bi zaštitio interese Njemačke, ali i Europske unije, iznosi Srećko Matić.
– Njemačka kancelarka je radikalno promijenila svoju migrantsku izbjegličku politiku. Na početku su svi mislili da Angela Merkel ostaje kod svoje politike "otvorenih vrata", međutim to se jako promijenilo i ona je bila pod jako velikim pritiskom, čak i svoje političke opcije, da korigira. Ona se znatno promijenila, postala je puno restriktivnija i današnja njemačka migrantska politika nema baš puno veze s onom iz jeseni 2015., zaključio je.
> Crvtila o odlasku Merkel: Početak geostrateškog preslagivanja
Barić: Završetkom vladavine Angele Merkel završava velika era
Završetkom vladavine Angele Merkel završava era ne samo za Njemačku već i za EU. Što se tiče zaokreta u politici Barić je rekao kako nakon 16 godina, EU si više ne može priuštiti stil vođenja kakav je imala Merkel.
– Merkel je pružala vodstvo zasnovano na traženju kompromisa, smirivanju situacije i izbjegavanju sukoba. To je bio problem, rekao je Barić i dodao kako bez obzira na proklamirane zaštite vrijednosti EU, Njemačka je pod njenim vodstvom na prvo mjesto stavljala svoje komercijalne i geoekonomske interese.
Na pitanje kako u Bruxellesu gledaju na odlazak Angele Merkel, Tihomir Vinković je rekao kako smatraju da je 2015. godine bio veliki poraz njene politike kada je htjela dovesti izbjeglice i tu je došlo do raskola.
– 2019. godine ona je s francuskim predsjednikom Macronom nakon sastanka G7 u Japanu, pokušala nametnuti osobu koja će preuzeti EK. No male zemlje su se uspjele izboriti da to ne bude Timmermans., – rekao je Vinković i dodao kako u ovom trenutku nema očekivanja da će se njezinim odlaskom dogoditi velike promjene tko god došao na njeno mjesto.
Podržite nas!
Kako bismo Vas mogli nastaviti informirati o najvažnijim događajima i
temama koje se ne mogu čitati u drugim medijima
, potrebna nam je Vaša pomoć. Molimo Vas podržite Narod.hr s 50, 100, 200 ili više kuna. Svaka Vaša pomoć nam je značajna! Hvala Vam! Upute kako to možete učiniti možete pronaći
OVDJE
Izvor: narod.hr/ Glas Istre/ HRT