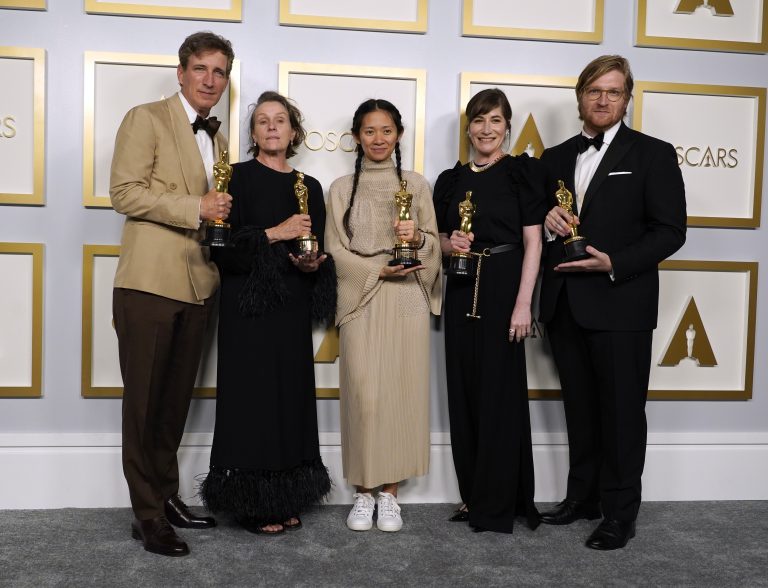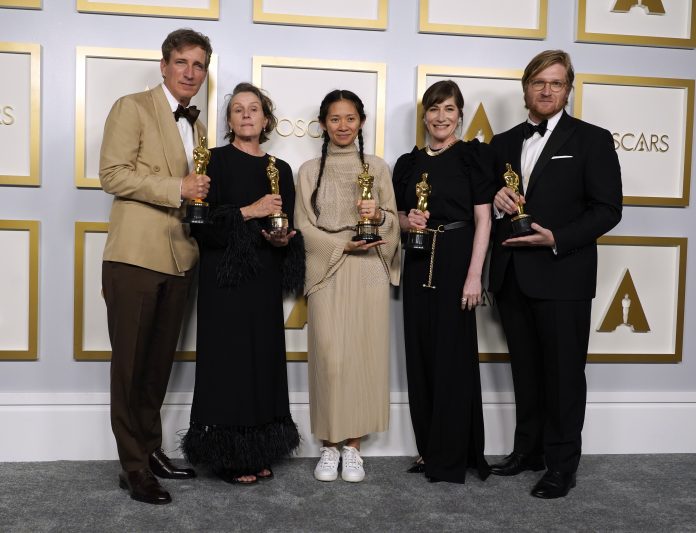 Film "Zemlja nomada" dobio je tri Oscara – za najbolji film, režiju i glavnu žensku ulogu, a s po dva Oscara nagrađeni su filmovi "Otac", "Juda i crni mesija", "Zvuk metala", "Mank", "Ma Rainey: majka bluesa" i animirani film "Duša".
Dodjela je bila neuobičajena zbog pandemije, nije bilo službenih voditelja, već su se u tim ulogama izmjenjivala brojna imena glumačke i modne scene, među kojima su bili i Brad Pitt i Halle Berry.
Sa tri prestižna zlatna kipića, i to u najvažnijim kategorijama – za najbolji film, glavnu žensku ulogu i režiju kući je otišla ekipa filma 'Zemlje nomada' predvođena sjajnom redateljicom Chloe Zhao i glavnom glumicom Frances McDormand, koja se, osvojivši i svoj treći osobni Oscar, izjednačila sa neponovljivim kolegama Meryl Streep i Danielom Day-Lewisom. Rekord sa četiri osvojena i dalje drži legendarna Katherine Hepburn.
Njezin govor i zavijanje kao vučica, što je napravila kada se ekipa filma 'Zemlja nomada' popela na pozornicu da preuzme zlatni kipić za najboljji film, posvećen je preminulom članu ekipe, čiji je nadimak bio Wolf, odnosno Vuk, piše Tportal.
Bet you didn't have Frances McDormand howling like a wolf in her Best Picture acceptance speech on your #Oscars bingo card.https://t.co/sdgeoBK7lX pic.twitter.com/O0CWmjhLfP

— ABC News (@ABC) April 26, 2021
Upravo za film 'Otac' Oscara je dobio Anthony Hopkins za najbolju mušku ulogu, koji je time srušio još jedan rekord, a to je da je sa svoje 83 godine najstariji glumac koji je osvojio tu nagradu, preuzevši 'titulu' od Henryja Fonda koji je imao 76 godina kada je osvojio zlatni kipić za film 'Ljetnikovac na Zlatnom jezeru'. Hopkins se, kako se i očekivalo, na dodjeli nije pojavio.
Ovogodišnji dobitnici
Najbolji film: Zemlja nomada
Režija: Chloé Zhao (Zemlja nomada)
Glavna muška uloga: Anthony Hopkins (Otac)
Glavna ženska uloga: Frances McDormand (Zemlja nomada)
Sporedna muška uloga: Daniel Kaluuya (Juda i crni mesija)
Sporedna ženska uloga: Yuh-Jung Youn (Minari)
Originalni scenarij: Djevojka koja obećava (Emerald Fennell)
Adaptirani scenarij: Otac (Christopher Hampton i Florian Zeller)
Animirani film: Duša
Međunarodni film: Još jedna runda (Danska)
Dokumentarni film: Hobotnica i ja
Kratkometražni dokumentarni film: Colette
Kratkometražni igrani film: Two Distant Strangers
Kratkometražni animirani film: If Anything Happens I Love You
Originalna glazba: Duša (Trent Reznor, Atticus Ross i Jon Batiste)
Originalna pjesma: "Fight For You" (Juda i crni mesija); glazba H.E.R. i Dernst Emile II, tekst H.E.R. i Tiara Thomas
Zvuk: Zvuk metala
Scenografija: Mank
Fotografija: Mank
Šminka: Ma Rainey: majka bluesa
Kostimografija: Ma Rainey: majka bluesa
Montaža: Zvuk metala
Vizualni efekti: Tenet
Zbog pandemije Covida-19 ovogodišnja dodjela održana je dva mjeseca kasnije nego što je planirano, a održana je u Dolby Theatreu i na losanđeleskom kolodvoru Union Station koji zbog svoje veličine omogućuje poštivanje odgovarajuće fizičke distance, piše HRT.
Podržite nas!
Kako bismo Vas mogli nastaviti informirati o najvažnijim događajima i
temama koje se ne mogu čitati u drugim medijima
, potrebna nam je Vaša pomoć. Molimo Vas podržite Narod.hr s 50, 100, 200 ili više kuna. Svaka Vaša pomoć nam je značajna! Hvala Vam! Upute kako to možete učiniti možete pronaći
OVDJE
Izvor: narod.hr/HRT