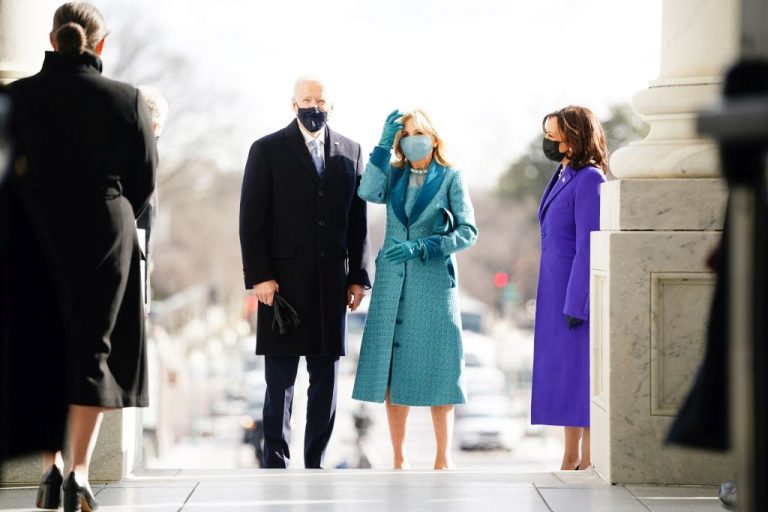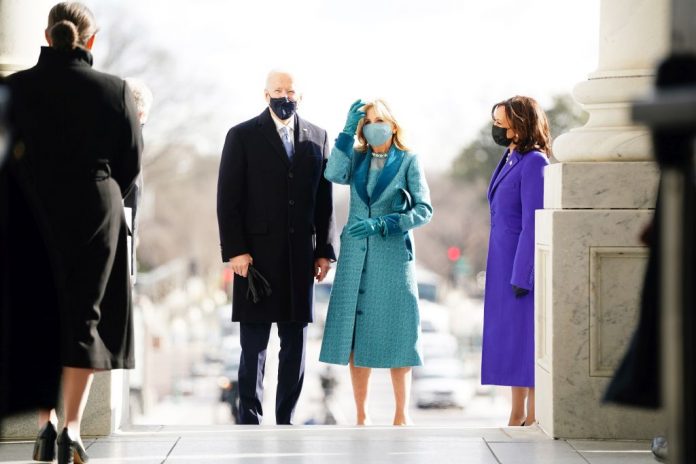 U srijedu nešto prije 18 sati (podneva po lokalnom vremenu) u Washingtonu je počela inauguracija novoizabranog američkog predsjednika Joea Bidena koji dolazi iz redova lijevo-liberalne Demokratske stranke.
20:20 Nakon inauguracije Biden će položiti vijenac na grob neznanog junaka na groblju Arlington s trojicom svojih prethodnika i njihovim suprugama: Georgeom W. i Laurom Bush, Billom i Hillary Clinton te Barackom i Michelle Obamom.
Na povratku, povorka 46. američkog predsjednika zaustavit će se nekoliko stotina metara od Bijele kuće i Joe Biden uputit će se do svoje nove rezidencije pješice. Tada će moći najaviti svoje prve predsjedničke odluke.
18:50 Biden je ubrzo nakon inauguracije objavio prvi tweet na službenom profilu predsjednika i poručio da odmah kreće s poslom.
There is no time to waste when it comes to tackling the crises we face. That's why today, I am heading to the Oval Office to get right to work delivering bold action and immediate relief for American families.

— President Biden (@POTUS) January 20, 2021
Now the real work begins, folks. Follow along at @POTUS as we build back better. pic.twitter.com/fHViqSqwp2

— Joe Biden (@JoeBiden) January 20, 2021
18:15 Predsjednik Donald Trump ostavio je poruku svom nasljedniku Joeu Bidenu u Ovalnom uredu i time nastavio tradiciju u prijenosu vlasti, otkrili su dužnosnici Trumpove administracije.
18:14 Nakon prvog govora Joea Bidena kao predsjednika SAD-a, pjesmu "Amazing Grace" izveo je country pjevač Garth Brooks.
18:13 Stižu čestitke novom predsjedniku SAD-a Joeu Bidenu. Među njima je i predsjednik Zoran Milanović, Andrej Plenković…
18:10 "Pred nama je možda najtamnije razdoblje pandemije koronavirusa, ali moramo se boriti kao jedna nacija. Proći ćemo ovo zajedno", dodao je. Obratio se i onima izvan američkih granica te je rekao da je Amerika bila testirana i da je izdržala. Biden je kazao da će SAD voditi svijet svojim primjerom i da ćemo se obračunati ne sa izazovima od jučer, nego izazovima današnjice.
Biden je u svom govoru kazao da će biti predsjednik svih, da neće dijeliti ljude, ali je spominjao rasizam, esktremizam i bijeli supremacizam.
18:00 Biden je u govoru ustvrdio kako će učiniti sve da pobijedi rasizam te se izbori s pandemijom koronavirusa.
17:56 Milada Privora, bivša ravnateljica Državnog protokola i šefica protokola predsjednika Republike Hrvatske Franje Tuđmana, je kazala za HRT kako je neuobičajeno da je inauguracija pomaknuta za 10 minuta, jer ona inače uvijek počinje točno u podne. Kao jedan od mogućih razloga za "kašnjenje" naveden je sigurnosni razlog.
17:55 "Ovo je dan demokracije, povijesti i nade te razrješenja. Amerika je odgovorila na sve izazove. Danas slavimo trijumf demokracije. Volja ljudi je uslišana. Naučili smo da je demokracija krhka, ali je prevladala. Na ovom tlu prije samo nekoliko dana bilo je nasilje, ali iz svega smo izašli kao jedna nacija i mirno obavili prijenos vlasti", kazao je američki predsjednik Joe Biden.
17:50 Joe Biden je prisegnuo za 46. predsjednika SAD-a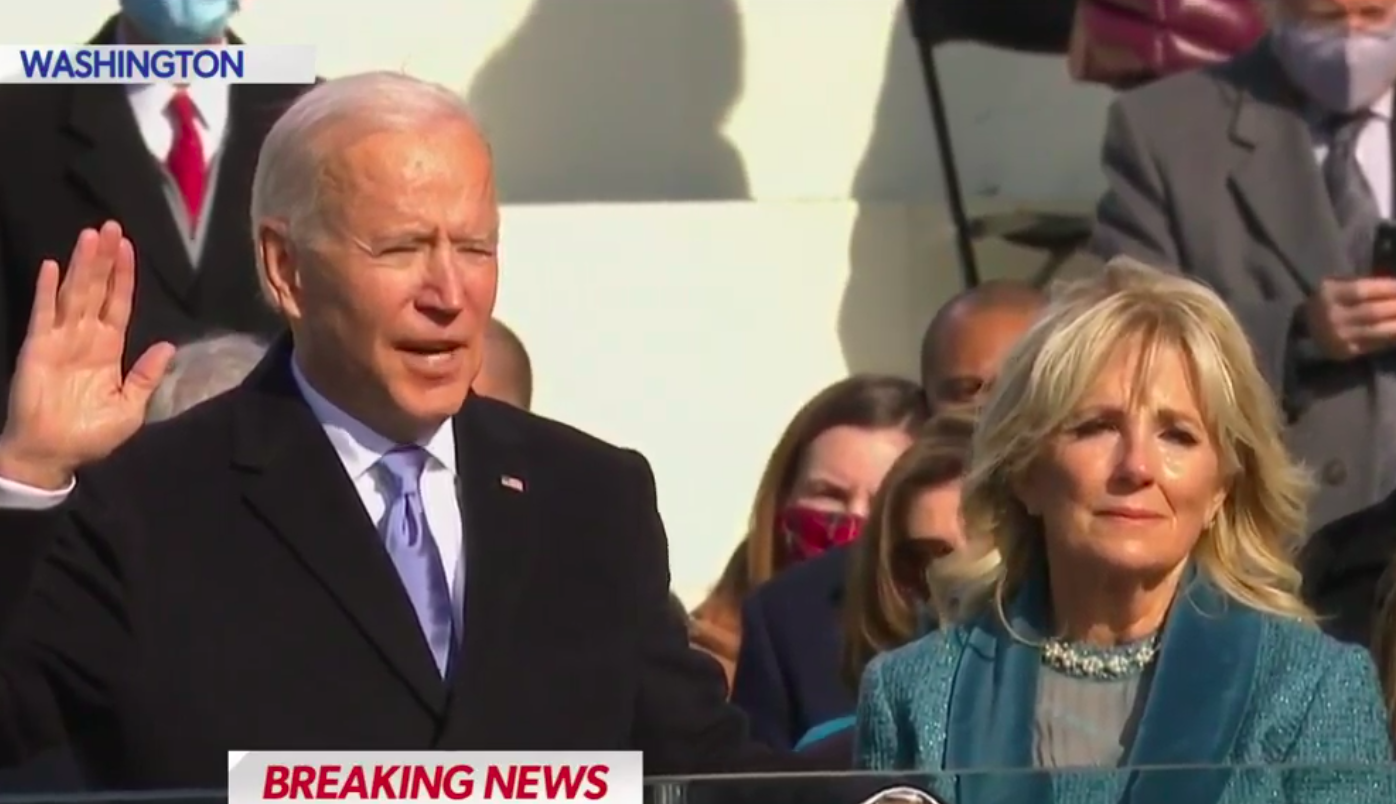 17:42 Kamala Harris je prisegnula za potpredsjednicu SAD-a.
17:37 Lady Gaga izvodi američku himnu.
17:30 Predsjednik Donald Trump je stigao na Floridu, a dočekali su ga pobornici
President Donald Trump arrives in Florida pic.twitter.com/Y1H2Tp9E4A

— Yaakov Pollak (@Yanky_Pollak) January 20, 2021
17:25 Senatorica Amy Klobuchar održala je pozdravni govor na ceremoniji.
"Ovo je dan kada se naša demokracija vraća i kada se Amerika vraća. Danas slavimo prvi potpredsjednicu, Kamalu Harris. Danas je sve moguće", poručila je Klobuchar.
Sigurnosne mjere u Washingtonu podignute su na najvišu razinu te je zabranjen pristup javnosti. Više od 20.000 pripadnika Nacionalne garde, vojnih rezervista, naoružani kruže gradom. Postavljene su žičane ograde i betonski blokovi kako bi se zaštitilo spomenike kao što su Bijela kuća i Kapitol ili kako bi se zatvorile glavne prometnice.
Inauguracija bi trebala trajati oko 90 minuta, a na nju će doći i poznati iz glumačkog i glazbenog svijeta poput Toma Hanksa, Lady Gage, Jeniffer Lopez, Justina Timberlakea, Jon Bon Jovija i drugih.
Na inauguraciju će doći bivši predsjednici Barack Obama, Geroge Bush i Bill Clinton.
Donald Trump, kako je već najavio, neće nazočiti inauguraciji novog predsjednika Bidena, što će biti tek četvrti put u američkoj povijesti da predsjednik na odlasku nije nazočan na inauguraciji svog nasljednika.
Podsjetimo, Biden je već najavio koji će mu biti prvi potezi pa je tako objavljeno da će, kada je riječ o zakonodavstvu, odmah prvog dana poslati opsežni imigracijski zakon prema Kongresu, pružajući put do državljanstva za 11 milijuna migranata koji ilegalno borave u SAD-u.
Podržite nas!
Kako bismo Vas mogli nastaviti informirati o najvažnijim događajima i
temama koje se ne mogu čitati u drugim medijima
, potrebna nam je Vaša pomoć. Molimo Vas podržite Narod.hr s 50, 100, 200 ili više kuna. Svaka Vaša pomoć nam je značajna! Hvala Vam! Upute kako to možete učiniti možete pronaći
OVDJE
Izvor: narod.hr